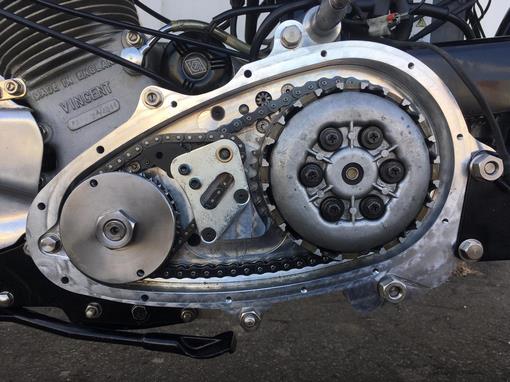 > E-STARTER KIT FOR VINCENT COMET
« Designed to be as discrete as effective »
Background
The electric starters for Vincent Comet are an old story here at Alton as the first prototypes were built in 2008 and were tested in the hands of some French riders, members of the French section of the VOC.
We soon realized that the same design (in facts similar design) could be applied to the Norton Commandos MK2. Of course it was logical to focus firstly on Commandos and the Comet kit project was left on background « for a while ».
Some years later, Alton grew up a little. At least we were comfortably installed in bigger premises so we decided it was time to dig out the old file, update it with a couple of new ideas backed by our Norton experience and « start » something new.
Of course the matter is not mass production. The design challenges remain identical as for previous Alton products: efficiency, smart design, discretion, respect of original appearance as far as possible and reversibility.
The Alton kit for Comet is specifically designed to be a reversible installation. Except a small modification to T5/4 primary drive cover: a small piece of 15 x 150 mm (approx.) of alloy has to be removed from the inside of the outer case. No other alteration to genuine parts is needed. This kit is fully reversible.
Alton advises owners to store all their unused original parts safely.
What's included? :
Reinforced primary inner case. It is not a genuine case modified but a new one machined from solid alloy plate.
12-volt starter motor
Starter chain and driving system
One Way Clutch assembly (sprag clutch)
New primary drive shock absorber system to replace the genuine multi-spring system too big for our purpose. The replacement system has a narrow design to give space to the OWC on the crankshaft
Special crankshaft nut
Relay, push button, heavy-duty cables
Special thin strap for generator (to give space to the starter motor)
Recommendations
Of course we recommend fitting the Alton generator ACG02/PR01 set for an optimum battery charging. If the bike is already equipped with an Alton generator, no need to purchase a new one.
We do not supply the battery. We recommend battery YTX16BS (150 x 87 x 161) or YTX14BS (150 x 87 x 145).
The kit is designed for negative earth wiring only. If your bike is positive earth, we recommend converting it into negative earth. If for any reason you wish to keep your bike positive earthed, please reach us, we can modify the kit to match positive earth purpose.
Fitting the kit is not too difficult for Vincent experts but it must be done with professional care and requires a number of parts to take apart before installation (shortly said: the entire primary drive).
With a two-year guarantee, what are you waiting for?